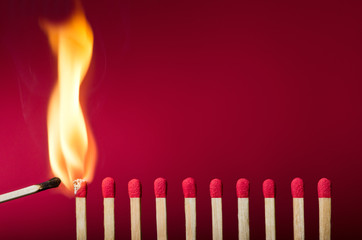 Source: Adobe Stocks
But then the world is in chaos. And then it all seems empty. I see a space. Void. Lifeless. I see the anguish spread like flu. I am still here in rigmarole. Confused about what plays in this role. I am confident that someday time will advance this decadence to standstill in the land of the living so I STAND. STILL.
I am met with holy anger. The girls pushed out their homes. Cut ties with family for a baby of their own resides in the cradle of fertile wombs. I am met with holy anger for the man who clothes in suit. Daily slaving on a job of #30k. He has a family of 4 and could barely feed his own belly. Same goes to the girl under the bridge of life, waiting on call to be called for a night shift. Grown to love the business. You contend in hatred yet the love for her sick mother makes the moaning worth its sound. Her story if asked was "come to Abuja to serve your big Aunty" but then her lifestyle not unconnected to "green bottles" leaves a lot unsaid. Now the rent is doubled and the landlord sends a QUIT. Notice the highs, the lows as friends stand aloof and now she has no choice to goof. And then someday somebody somewhere will wage a blame her way as though these fingers were saints.
I am met with holy anger at the number of unemployed who daily seek for jobs. They hold no sway, no contacts to slay on the altar of "man-know-man" hence hope and daily pray. And so with reckless abandon, exploring other options but choice leads legs to thuggery. Passed for as uneducated and illiterate minded don't we all bear the brunt somehow?
Now after my encounter with this friend so clever I am sure life yonder is provoked. Falz sang it in songs, government servants point the wrongs for risk of losing their jobs in "this is Nigeria!".
An ode to HOLY ANGER, do well to uncover the worms that tie my bowels. The caterpillars and locust that milk without focus the coffers of Nigeria's Treasury. The cabals that form and kingmakers who conform to confirm weaklings to rule. When all is said and done please plain on the lawns of this home that is falling apart lest a war looms in begun.
#YudySpeaks#